Home
About the Artist
Gallery
-Wedding Invitations
-Floral Arrangements
-Quilled Earrings
-Watches
Quilling Gallery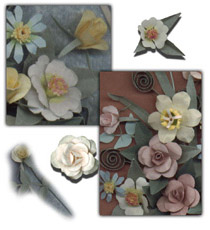 Wedding Invitations
Custom quilled wedding invitations make great wedding or anniversary gifts.

Floral Arrangements
These items are floral quilled creations.

Quilled Earrings
Quilled earrings come in different sizes and styles. Although they are paper, all are specially treated to last.

Watches
These watches are custom designed, and showcase different varieties of flowers, sealed inside the watch.